Experience more freedom underwater
Experience the unparalleled sense of comfort that sidemount diving provides. At our dive center, we started last year to integrate sidemount diving and now it's time for us to share our expertise with you. Whether you're into technical or recreational diving, sidemount offers countless advantages.
With multiple independent cylinders, you can bid farewell to worries about running out of air, ensuring your safety and peace of mind.
Achieving the perfect diving position, maintaining trim and mastering buoyancy become remarkably simpler in sidemount, allowing you to maintain the advantageous head-up position. And if you're making the switch from backmount, you'll quickly realize that sidemount is not only easier on your back but also a breeze to handle.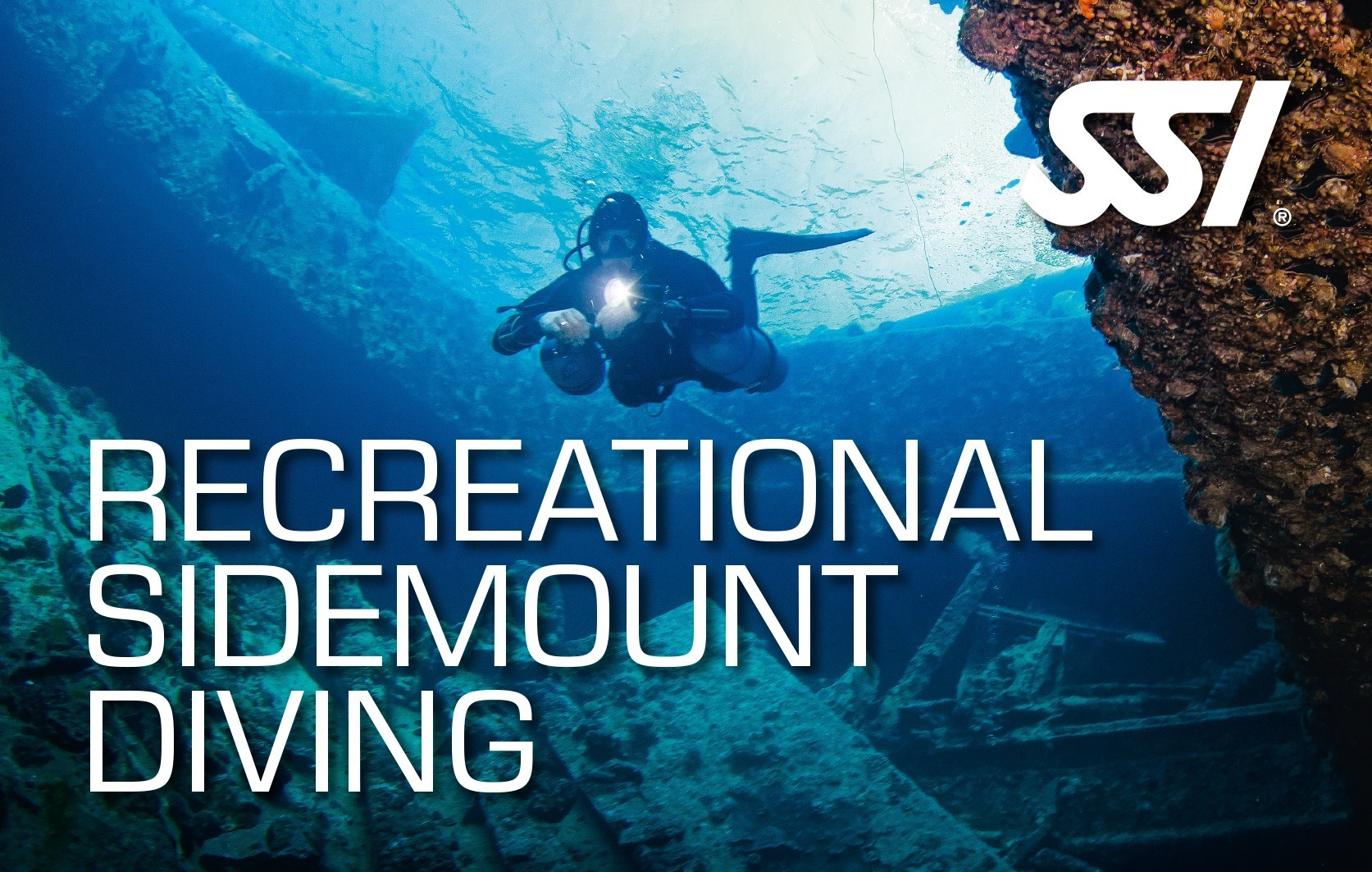 SSI Rec Sidemount
Mind. 12 years
Online theory materials
Sidemount equipment
Tanks & Rigging
1 confined water dive (mind. 1 hour)
3 open water dives (~45 min each)
International certification
310€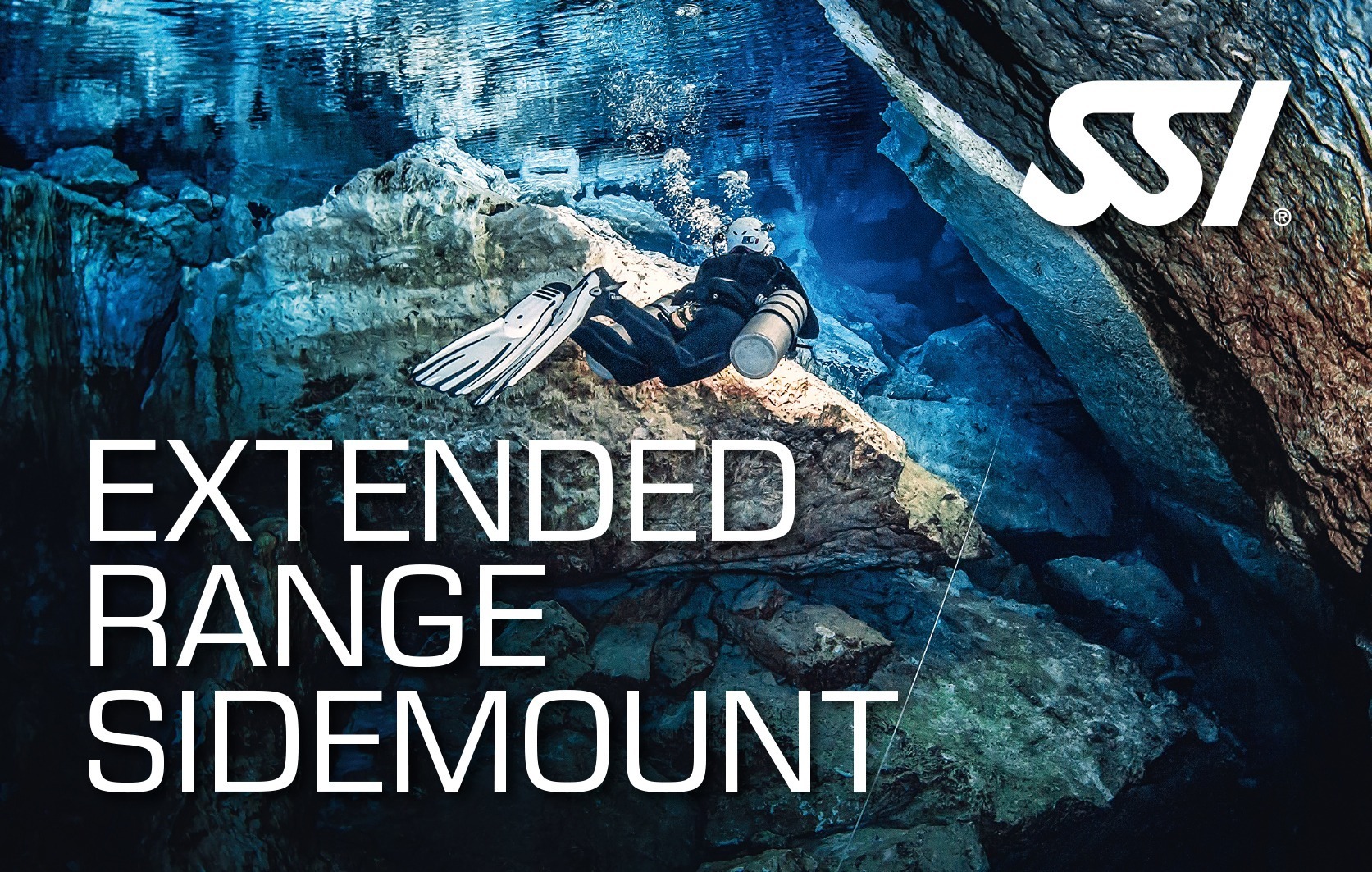 SSI XR Sidemount
Min. 16 years
Online theory materials
Sidemount equipment
Tanks & Rigging
1 confined water dive (1 hour min)
4 open water dives (~45 min each)
International certification
from 499€
Get ready to discover a whole new level of diving freedom with sidemount and register on one of our sidemount options. We currently offer two different sidemount courses: the SSI Recreational Sidemount course and the SSI XR Sidemount course. Both courses are designed with beginners in mind and require no prior sidemount experience.
The Recreational Sidemount course is the perfect introduction into the sidemount world and our instructors will help you to understand the different techniques to balance the tanks, handle your equipment and get to experience the advantages of sidemount diving. The XR course takes your underwater exploration to the next level, offering advanced techniques and even introducing a third tank into the mix.
Join us in this new adventure!
Benefit from tanks on your side
Sidemount diving is a scuba diving configuration in which the diver wears tanks on their sides rather than on their back, offering increased maneuverability and redundancy.
It's important to note that while sidemount diving offers many advantages, it also requires proper training and experience to ensure safety. Divers should undergo specialized training to learn the techniques, equipment setup, and safety protocols associated with sidemount diving.
Sidemount diving requires specific gear such as a sidemount BCD, rigging systems, tons of bungees, different regulator configurationes etc.
Flexibility: Easier navigation in tight spaces.
Redundancy: Two independant gas supply setups.
Streamlining: Reduced drag, improved buoyancy.
Handling: Simple equipment donning and doffing.
Back Strain: Less strain, helpful for back issues.
Accessibility: Suitable for diverse physical abilities.
Safety: Ideal for cave and wreck diving.
Training: Specific emergency procedures training.
Interaction: Better communication, facing fellow divers.
Gas Management: Enhanced control, longer dives.
No matter which course you want to do, register with SSI and connect to Daivoon Diving Centre.  Once you have transferred the fees for the online materials, we will unlock the course materials. You can start learning directly on the SSI website or by using the MySSI App.