Max. 40 m
Shore
All levels
Puerto del Carmen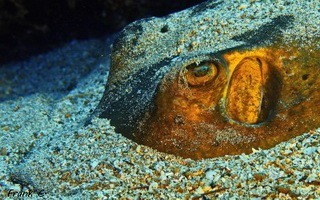 The divesite Black Beach is named after the tiny little black beach on the corner of the old harbor in Puerto del Carmen. It also goes by the name of "Casa Chucho – House of the rays", because the area is home to rays of all shapes and sizes – so be sure to keep your eyes peeled.
There's a small rock wall to step down onto the shingle beach, but the guides are always there ready to lend a hand. The site offers a mixture of beautiful overhangs and unearthly rock structures for the divers to explore.
Following the harbour wall takes us steadily down to the end of the reef at about 39m. There is some beautiful topography and it is possible to see large groupers who almost seem to pose for the camera.
This is a fantastic divesite for open water and advanced divers alike. There is much to see and explore in the shallower depth: Angel Sharks, Rays, Sea Hares, Cuttlefish and Octopus to name but a few.
Black Beach also offers an alternative route to the Blue Hole swim through, with a beautiful wall, many over hangs and a small shrimp cave to explore on the way.
When the tides and currents are favourable, this entry point also allows for a lazy drift dive along the wall, exiting at Playa Chica.
If you want to dive this divesite, drop us a line and we will arrange something.