0 – 30m
Shore
Min. OWD
Puerto del Carmen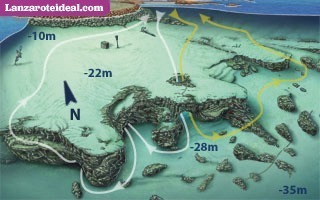 You start this dive with a giant stride from the jetty or the steps if you don´t like to jump. Then you dive along with the rocks to your right hand side. After about 10 minutes you reach about 15m depth. Here you turn left to make your way down to the edge of the reef.
If you are an OWD you follow the edge of the reef to a max. depth of 18 m and you can view the blue hole from above. Looking down the reef is beautiful and gives you an impression of flying over a sheer cliff wall.
The advanced divers can dive over the edge of the reef to a depth of about 25 m – 30 m and follow the reef wall till you reach the blue hole. It does not matter which way you go to the blue hole – from the left or from the right – as both sides have many crevices in the wall. This is where many tube dwelling anemones, cloaked anemone crabs, morays and cleaner shrimp can be found. Eyes peeled for large groupers, barracudas and trumpet fish which often patrol the reef wall. The reef wall is also home to many species of nudibranches – leopard spotted and candy striped being the most commonly seen – and flatworms.
Keep an eye on your air and no-deco limit, as we want to leave plenty of time to explore the blue hole itself. The bottom end breaks out at about 30 metres and the top is at about 20 metres. Take your time to enjoy this tunnel-like formation. Don´t forget to pay particular attention to the various nooks and crannies to either side. You will usually find big spider crabs and sometimes even a ray or an angelshark that hides inside the blue hole.
If you want to dive this divesite, drop us a line and we will arrange something.