This is a divesite with a canyon in the north of the island. Divers need to kit up by the car and cross the rocks towards a small horseshoe formation in the lava which forms a small bay. On the right hand side you should find a small metal ladder, at high tide it is safe to jump, but at low tide the bottom is only about 1.5m deep. This tricky entrance makes it a site for the more adventurous and experienced divers.
This divesite offers a wide variety of sights for divers from advanced level and upwards. The use of this site depends largely upon the weather, but when we get the opportunity, we love to explore this special area.
The highlight is a large sized fissure in the rock. This is an excellent area to find crabs, urchins, nudibranchs or bigeye red bream. The flat sandy areas are ideal for spotting angelsharks and rays of many different sizes.
This divesite is perfect for divers that don´t mind a tricky entrance as the maximum depth is about 20-25 meters. The relatively shallow depth has no impact on the opportunity for seeing wildlife however, as this site is excellent for spotting barracuda, moray eels, slipper lobster and octopus, as well as many other endemic species.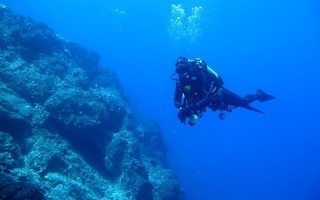 The canyon opens out at about 15m with the vertical reef wall on your right shoulder, the left falls away to a sandy bottom at about 20m. As you keep the reef wall to your right, out to the left you will see a number of large solitary rocks in the sand about 10 – 15m out. These are well worth a look round as there is a good chance to see large rays and angle sharks.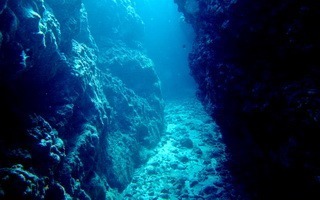 To the right of the entry point we find the canyon. It is about 10 meters deep and it is only wide enough for single file.
The crack runs for about 35m and is a good spot for shrimps and crabs, with many nooks and crannies. There is a direct line of ascent to the surface at all times, ensuring a safe and enjoyable place to explore. Divers should exercise caution however, as it is home to a large number of spiny urchins.
If you want to dive this divesite, drop us a line and we will arrange something.