0 – 35 m
Boat
Advanced
Puerto del Carmen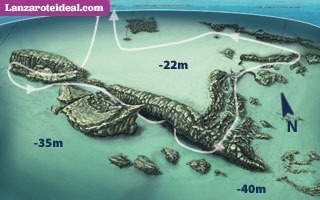 This dive begins at the line of buoys that mark the beach swimming area. Once descended to the sand at about 20m, you will see the edge of the reef and follow it till you reach about 25m of depth.
Watch your no decompression time carefully– as these divesites make it easy to go down to 30 or 35m, but as we want to spend more time diving, we try to stay at the 25 m mark for the majority of the dive.
You will find a canyon-esque rock formation, which is home to many different fishes like groupers, trumpet fish and of course all the colourful fish of the Atlantic Ocean like damsels, wrasses, breams etc.
Keep your eyes on the reef wall to find sponges, nudibranchs, crabs etc. but never forget to check the waters above you for big shoals of sardines, as well as the sand areas in the deeper bits for rays and angelsharks.
If the conditions are right this dive is easily combined with the likes of Waikiki and La Pared since you´ll just drift along the whole of Playa Grande waiting for the boat captain to pick you up 😊.
As for all the divesites in front of the Playa Grande in Puerto del Carmen, all divers are supposed to have a buoy with them. The guide uses his to have a guideline for the safety stop which is usually done in midwater. And of course, it is important that the boat can easily spot the divers after their safe return to the surface.
If you want to dive this divesite, drop us a line and we will arrange something.