0 -35 m
Boat
Advanced
Puerto del Carmen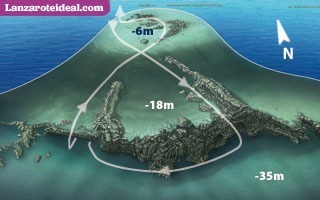 Waikiki is one of our boat dives in front of the Playa Grande in Puerto del Carmen. It´s just next to Richies Place. The boat drops you off at the shot line and the dive begins with a descent down to 15 – 20 m.
While descending you will already see the lava tongues emerging from the sand. They will guide you down to the edge of the reef, which is at about 20m. Dive along the reef and find massive groupers, big shoals of sardines hanging out just above the reef who are usually accompanied by barracudas or even amberjacks. Flounders and trumpet fish are common fish at Waikiki.
There are also large caverns to explore. They are home to orange corals and sea fans. Of course, there are loads of sponges, crabs, and other marine life to find at the reef wall. It is a great spot for photographers as well, as you can do stunning photos of divers gliding along the reef.
As the current can be strong in this area, every diver should have a buoy with him. In case there is a bit of a drift, we simply use the current and glide along the reef. The boat will pick us up wherever we ascent.
We need to watch our no deco limit at this reef, as we usually run out of that earlier than of air. Therefore, we need to ascent early enough to have time left for a safety stop and to shoot the buoy, which the guide will always do as the boat is somewhere above us.
If you want to dive this divesite, drop us a line and we will arrange something.