0 – 35m
Shore
Advanced
North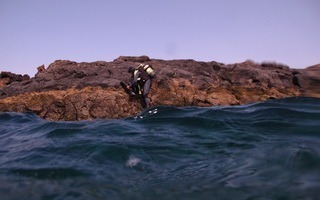 Charco natural is located near the small village of Mala in the North East of Lanzarote. With a sort of natural amphitheatre, which serves as the entry and exit point. A small fork connects the basin to the open sea.
For our more intrepid divers, there is a rock plateau on the right hand side of the basin, where it's possible to enter the ocean with a giant stride.
Underwater there is a vegetation-covered plateau and a very impressive lava landscape which is especially good for spotting small animals like nudibranchs, octopus and crabs. But quite often sardine shoals or rays escort the divers on their excursion.
The journey goes over the plateau in 20 meters depth to a fork where the divers can go to the left and follow the reef up to a depth about 35 meters, or go along a rock plateau back into the sun.
Another possibility leads back 25m over bizarre rocks to a small grotto at 12-8 meters.
On the way back to the algae-covered plateau it's possible to see scorpion fish, barracuda and big schools of yellow bream. The exit takes place either over the natural basin or –with a bit of work- over the rocks if the tide has dropped.
Charco Natural is a beautiful dive for the more advanced divers who like to enjoy the variaties of Mala.
If you want to dive this divesite, drop us a line and we will arrange something.