max. 40 m
Shore
Advanced
Puerto del Carmen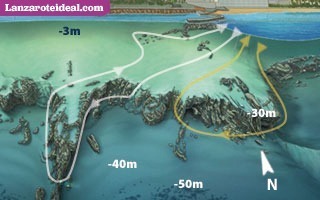 Situated between Playa Grande and Playa Chica, you will find the Veril de Fariones. This underwater cliff stands out as a dive site because of its depth and height of its walls.
You can access the dive site by the beach front of Playa Grande or surface swimming out from Fariones beach. As it is a bit of a walk either way, you should be fit to carry your equipment a few metres.
Once in the water however, you will realize it is worth the effort. This dive site offers many different routes that you can explore.
It is a good dive site if you want to float neutrally buoyant along a high reef wall, and if you want to do a couple of deep dives for instance in a course. Everything and anything can be seen along these cliffs, so be sure to keep your eyes peeled!
The shallow waters around the pier of Fariones also makes for a perfect safety stop area, with plenty of small rocks to forage around whilst you wait, it is a nice end to a beautiful dive!
The Eye
The Eye is a 3m by 2,5m hole in the reef wall of the Fariones reef. It looks like an eye, which is obviously where its name comes from. You can dive through the eye as it is big enough for divers including tanks.
The eye is in a depth of 40m, so this route is only suitable for the more experienced divers.
If you want to dive this divesite, drop us a line and we will arrange something.