0 – 30 m
Boat
Advanced
Puerto del Carmen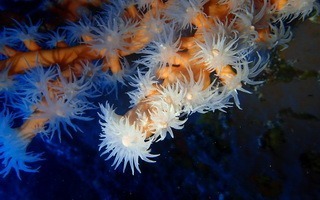 La Pared is spanish for "the wall". This name alludes to the mesmerizing reef wall that you will explore throughout the dive.
After a 20m open water descent you arrive directly at the reef wall and can choose which way to go. Ideally you'll simply follow the fish, that you will find in dozens. Either way, you will get the feeling the dive is just too short: yellow encrusted anemones, yellow sea fan, orange corals and loads of sponges and marine life in every nook and cranny.
There are 20m of water above you and 15-20m underneath you and gliding along the reef wall you get the feeling that you are truly flying underwater. A great sensation that only a reefwall can offer. A few embayments and overhangs offer the diver loads of objects for great and impressive pictures.
There is also a good chance to spot some big sting rays or angelsharks.
Once you leave the depth to avoid running into deco, you will find a little reef at about 12 metres deep which gives you time to take some pictures of crabs, nudibranchs etc and enjoy the rest of the time until you ascend to do your safety stop.
The guide always shoots the buoy to make sure you are seen by the boats. While doing the safety stop in midwater, just look down. At this spot you usually can see the shoals of fish at the edge of the reef, or a ray on the sand area.
If you want to dive this divesite, drop us a line and we will arrange something.