Max. 40m
Shore
Advanced
Costa Teguise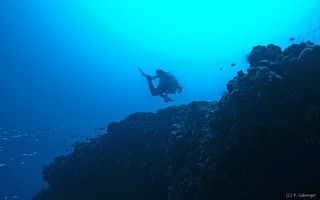 A great dive site close to Costa Teguise, which is known locally as "Lost Knickers" (don´t ask!). The entrance can be a little awkward over lava rocks, at the edge of which divers can enter the drink. The entry point also has some boulders forming some natural stairs which serve as the exit point.
Once in the water, there is a short surface swim to a buoy and the dive starts with a descent at 5m.
Divers are rewarded for the slightly tricky entry; as a very impressive submerged lava landscape is revealed, where it's possible to find many creatures such as octopus, parrot fish, sea hares, and cuttlefish to name a few. As always, caution is advised with the sea urchins, especially during the exit.
Heading directly away from the coast, the broken lava field gradually drops to about 18m where the impressive sheer reef wall bottoms out 30+ meters. This wall is home to many pelagic species including amberjacks, rays and tuna. In the overhangs on the wall one can find orange tree coral, slipper lobsters, morays and cleaner shrimp. Resting on the sand or patrolling the wall it is also common to see angelsharks during the dive.
Because of the slightly more strenuous entrance, exit and depth profile this dive site is reserved for appropriately qualified divers with at least 50 logged dives.
If you want to dive this divesite, drop us a line and we will arrange something.