max. 40 m
Boat
Advanced
Puerto del Carmen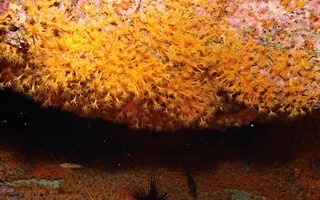 Seta is located between the dive sites Fariones and La Pared in the last quarter of the Playa Grande – the "Big Beach" in Puerto Del Carmen. This dive site is named after the mushroom shaped rock formed by the lava, also known as Seta (Spanish word for mushroom).
You can access the dive site from the beach or the boat. Either following a sand slope down to the reef or dropping down the buoy line, down onto the reef next to the mushroom rock, we begin by exploring the many crevices along the wall. Keep your eyes peeled along the wall, the sand bed, above the wall and out into the blue, here is where you will find angelsharks, rays, barracuda and trumpet fish – all common in this area. Take the opportunity to explore underneath the ledges which are formed by the wall. You can see much of the fauna that occupies Lanzarote's waters; cloaked anemone crabs, slipper lobster, candy striped flatworms and leopard sea slugs are often spotted here.
This reef wall around the seta rock is a very beautiful wall. Due to its location and access there are not so many divers and we can usually look forward to being the only dive group on the site.
With a maximum depth of 40 metres, this dive is suitable for Advanced Open Water dives (or equivalent) and above. As there can be strong currents along the reef wall, it is for divers with a min. of 40 dives only.
If you want to dive this divesite, drop us a line and we will arrange something.