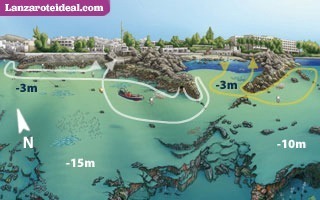 0 – 15 m
Shore
Beginners
Puerto del Carmen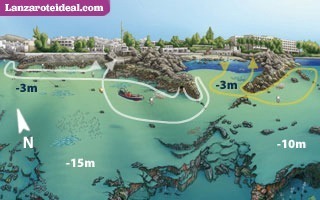 One of the most diverse diving areas on the island is Playa Chica in Puerto del Carmen. Playa Chica bay is part of this wonderful divesite. It offers scope for everybody – no matter if you are a swimmer, snorkeller, or diver – beginner or professional.
The divesite Playa Chica bay offers "confined water" – conditions. Because of that we use and recommend it for try-out dives, courses, kids-diving and refresher courses.
Chica Bay has an easy entry from the beach and two long lava tongues protect the shallow area from waves and currents. Thanks to that people can start their first underwater attempts in a safe way. Compared to a pool however, you can see thousands of things like anemones, crabs, starfish, sea urchins, cuttlefish, sea hares, many fish species and much more.
If you dive further out, you can go to the left or right side of the Playa Chica bay and explore the unterwater world in about 12m depth. If you are lucky, you can find angel sharks, different types of rays, octopus and even sea horses in this area as well.
If you want to dive this divesite, drop us a line and we will arrange something.