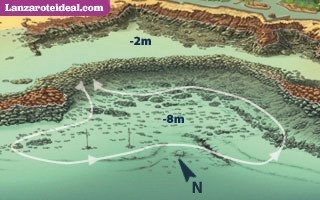 Playa Jablillo in Costa Teguise is around about 200m wide and is the smallest beach of Costa Teguise. It is Daivoon's "housebay" and offers ideal conditions for try dives and beginner courses. The large stone wall separating the bay from the open ocean provides shelter from big waves and harsh current.
Photographers and experienced divers will also find countless things to enjoy on this easy and relaxed dive.
Playa Jablillo is our recommendation to anyone who wishes to experience our beautiful underwater realm for the first time in a calm and safe environment.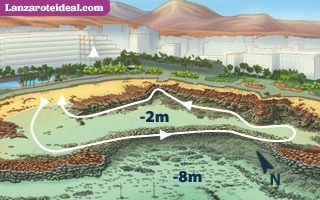 The beach offers an easy entrance and leads to a variety of underwater habitats. Many creatures find protection in the bay with ideal conditions making it a perfect nesting site for many species. The bay is home to arrow crabs, starfish, sepia and sea hares etc and plays host to various schools of colourful fish species. At high tide the maximum depth is about 5m which also makes the bay a great place to snorkel.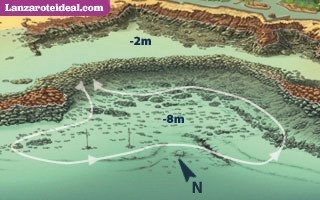 The stone wall is submerged at high tide which gives us the opportunity to leave the bay and dive outside. Along the wall barracudas, moray eels and sepia will be there to greet you in this wonderful underwater landscape. With a little luck you will be able to catch a glimpse of a beautiful ray here as well. With a maximum depth of about 15m, this spot is ideal for junior divers, families and open water students alike.
If you want to dive this divesite, drop us a line and we will arrange something.