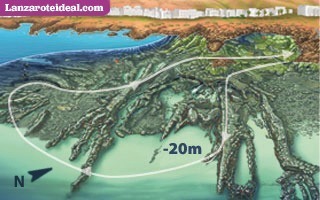 The divesite Charco del Palo is situated on a rocky shore line in the north of the Island and is of typical volcanic nature. Huge lava fields once flooded from the volcanic interior down into the ocean to form this stunning underwater environment. There are lots of beautiful overhangs, caves and tunnels to explore. This is why the site is great for old hands and less experienced divers alike.
There are also extensive sand-areas to explore, where the likes of angelsharks and rays can be found. These sandy areas are interrupted by lava-tubes which play host to a wide diversity of life including nudibranchs, crabs, shrimps, moray eels, damsels, barracuda, grouper etc.. The sandy areas drop off like a ski-slope into the dark depths of the ocean, hovering here for a moment or two to gaze out into the blue one gains an appreciation of this vast, spectacular underwater realm.
Charco del Palo can only be dived if there is little wind and it is especially great between March – May, when the chances to see loads of rays (20+) is higher then the rest of the year.
All in all: The divesite Charco del Palo offers a diver all their heart can desire: Various species from large to small, tunnels, caves and stunning rock formations. Both photographer and adventure diver alike will get their money´s worth, no two dives are the same and always something new to explore.
If you want to dive this divesite, drop us a line and we will arrange something.