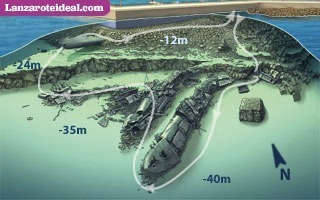 This dive spot is composed of a few modest wrecks all within 50m of each other. They are located just off the harbour wall in Puerto del Carmen. Here you may find yourself in this breathtaking ship cemetery – depth ranging between 16 to 40m.
In addition to the lasting impressions left by the shipwrecks there is also a chance to witness huge swarms of sardines and barracudas. Furthermore there are larger species including angel sharks and black stingrays. With a bit of luck you can also look out for trumpet fish, crabs, cuttle fish and other rock residents that inhabit the surrounding area.
The divesite Harbour Wall Wrecks in Puerto del Carmen is a fascinating divesite, even if you prefer your dives to be a little challenging, you will be well satisfied after this dive.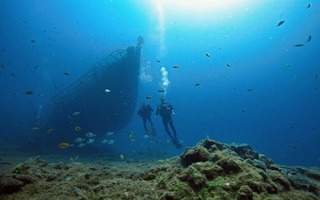 On top of the reef, there is a plateau, where there is a well preserved wreck at about 18m lying on its side. The special thing about this wreck, is that the harbour wall was built around it, meaning it literally protrudes from the wall itself!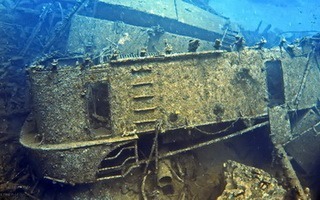 The deeper wrecks are fascinating too, as you can clearly see how nature finds her way to grow new life on foreign objects. Big schools of sardines around the broken wrecks make this dive special.
If you want to dive this divesite, drop us a line and we will arrange something.